Lift chairs for elderly provide great assistance to users with disabilities and back problems. They function by helping a seated person accumulate enough strength for standing. This innovative technology has been executed in numerous ways and in many chairs. Some lift chairs look and function just like conventional recliners. However, the best lift chairs for elderly offer a great level of comfort through heating and massage functions. They also help the elderly to stand up. Remember, there are many lift chair options out there and choosing one that fits your unique needs will require a keen eye for detail and thorough research. This excerpt will discuss five lift chairs to help you make an informed choice.
Page Contents
Best Lift Chairs/Recliners for Elderly:
| Model | Weight Limit | Battery Backup | Warranty | Price |
| --- | --- | --- | --- | --- |
| Mega Motion LC-200 | 325 lbs | Yes | 1 year/labor | |
| THERAPEDIC Washington Lift Chair | 500 lbs | Yes | 1 year/labor | |
| ProLounger Lift Chair | 300 lbs | No | 1 year/ frame | |
| Coaster Homer Lift Chair | 375 lbs | Yes (Battery not included) | None (Additional warranty available) | |
| Perfect Sleep Chair | 375 lbs | Yes | 1 year/ labor | |
Mega Motion LC-200 3-Position Lift Chair for Elderly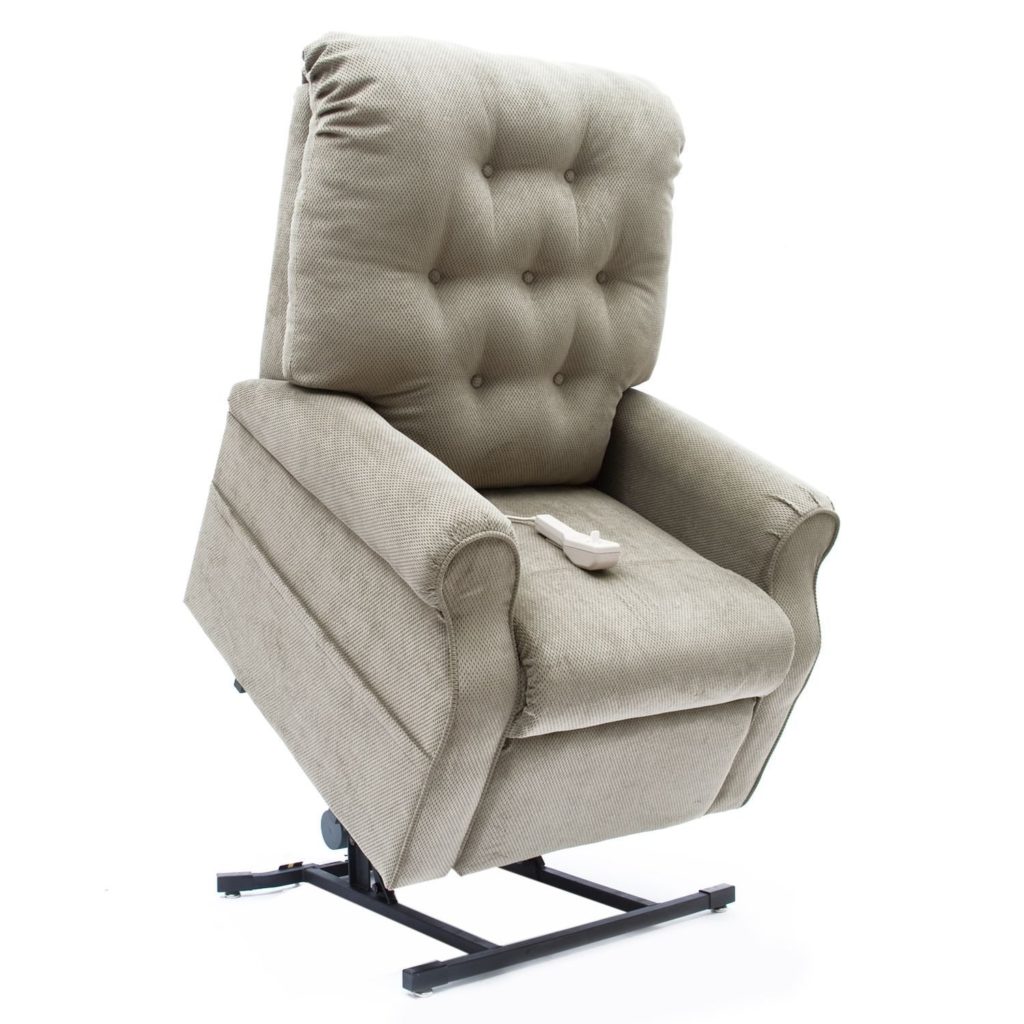 The manufacturer of this product is Mega Motion, a globally renowned brand that produces a broad range of chairs and recliners. Equipped with a lift facility, this high-quality chair provides three positions, including partial recline, normal, lifted, for the users. The design of this lift chair is appropriate for any modern-day household. The recliner contains a cushioned back as well as padded rolled arms. Leveraging the power feature, elderly individuals can stretch out on LC-200 chair on any positions. This product has side pockets where users can store magazines, books, and newspapers.
This lift chair comes with power steel lift mechanism that can easily lift approximately 325 lbs. There is no likelihood of an accident occurring while the lift is operating since it rises gently. The product has a powerful electric motor that comes with a manufacturer warranty of 1 year.  The chairs lift functionality is also backed up up with an emergency backup in-case of power outages.
Pros
It is a fashionable and elegant recliner.
It has an integrated battery, which acts as an emergency backup.
Recommended height of 5″4-6′
Cons
This chair is only ideal for the slimmer individuals. Its small size may cause discomfort to bulky and chubby people.
A few reviews claimed the footrest rest was uncomfortable
THERAPEDIC Washington Lift Chair for Elderly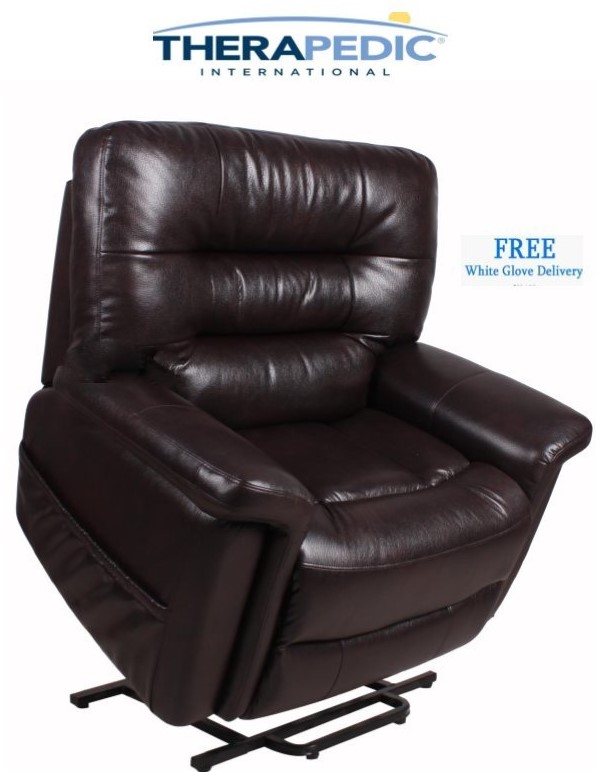 This lift chair contains a Gel-Infused Foam to offer you a luxurious feel by keeping you cool and relieving pressure points. It has gone through a comprehensive pressure mapping to make sure that support and mapping are positioned in all of the critical areas for offering real comfort. The Extra Capacity Motors, Dual Side Pockets, and Whisper-Quiet Motors are made from eco-friendly materials. The chair comes will well-designed glove soft cover for stress-free cleaning and maintenance. It has a battery backup to deal with power blackouts and other power issues. The company has backed up this chair with a lifetime of frame and  mechanism, 5 years of electrical and 1 year manufacturing defects warranty . With a large weight capacity of 500 lbs., anyone can sit on the Therapedic lift chair.
Pros
Durable and easy to maintain
Provides high level of comfort
It is suitable for both bulky and slim people due to its big size and a 500 lbs. lift weight capacity
The battery backup can keep the chair operation for a maximum of 2 weeks during power blackout
It provides one of the longest warranty periods.
Cons
Not for short people below 5″6′ height
Expensive than most chairs
Recommended post: Swivel Chairs for living room
Recommended post: Twin Loft beds for kids
Recommended post: Murphy beds for sale
ProLounger Lya Cream Renu Leather Lift Chair for Elderly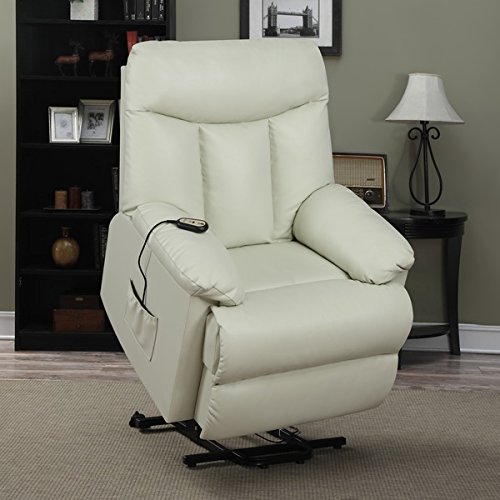 This power lift recliner allows you to relax in style and have a peace of mind. It is made of long-lasting renu leather, a durable hardwood frame, and a well-designed stainless steel lifting mechanism to endure years of use. Due to its compact size, this wall-hugging recliner is suitable for small spaces. It has 3-position recline functionality and requires only four inches of wall allowance to shift from reclining, sitting, to lifting. It contains thick foam cushions, convenient side pocket, and a capacity of 300 lbs.
Pros
Environmentally friendly creation and delivery
Easy to assemble – require a maximum of ten minutes to assemble
Well-designed and perfect for contemporary household
The lift mechanism offers a smooth life all the time and does not cause disturbance due to its quiet nature
300 lbs of weight capacity
Cons
The foot area is not comfortable since it does not rise high enough

It has a short warranty of 1 year that does not cover labor and transportation costs.
Coaster Homer Furnishings Wall Hugger Recliner Chair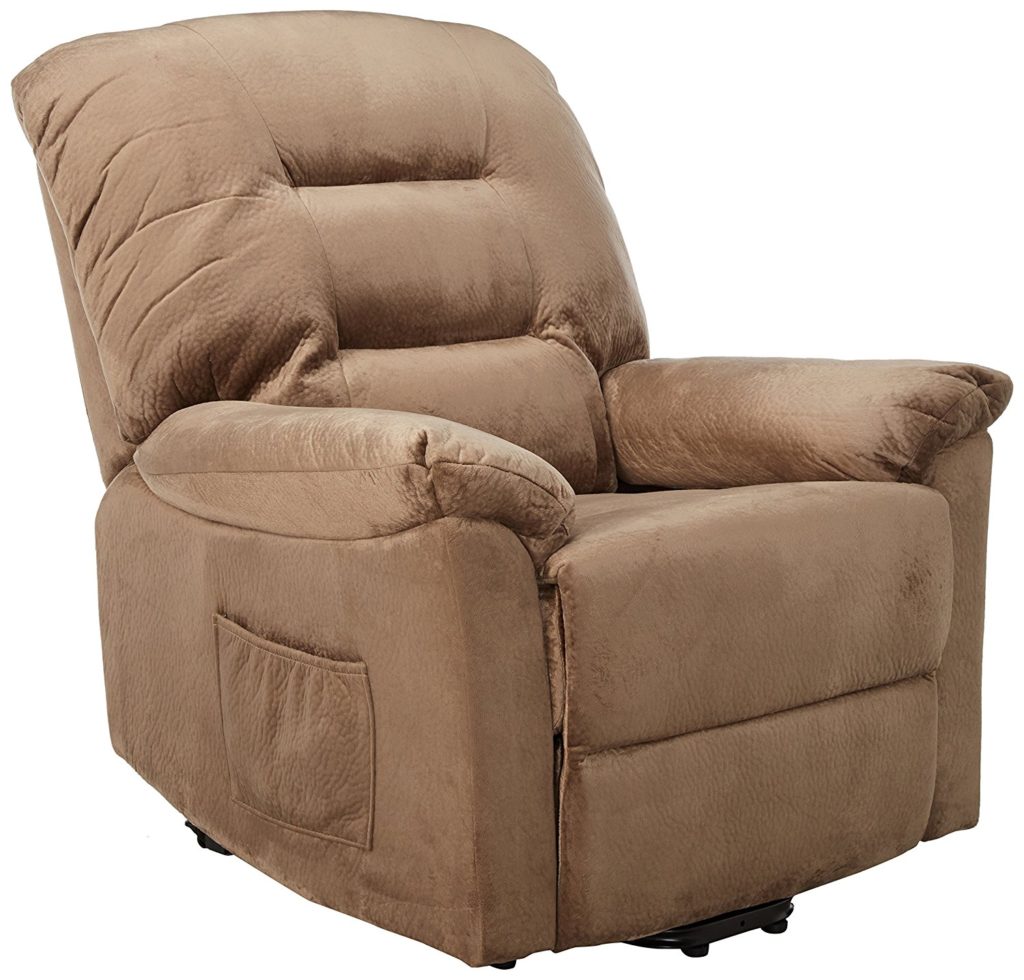 This recliner chair combines state-of-the-art technology with a transitional style, giving it a classy appearance. It comprises of padded textured velvet and high-density pillow arms to give you a genuine comfort. The massively padded headrest and back coupled with pocket coil seating play a role in creating comfortable support for individuals of all ages. This chair is also suitable for individuals who are beginning to experience intense pressure on their backs or knees since it contains a lift function to help them stand up with ease. You can use the remote control to initiate the recline function.
Pros
This power lift chair is available in numerous colors. Therefore, you can select one that complements other items in your house
It boasts an efficient em ergency backup system to deal with power outages
It is super comfortable, particularly for people with knee and back issues
It offers a lift capacity of close to 375 lbs.
Cons
Many users have reported that the chair broke and was of no use after few months.
The Perfect Sleep Chair
The Perfect Sleep Chair is arguably one of the most comfortable and durable recliner chairs. It comes with way more features than your conventional lift chair BUT for a big price.l The comfort level remains high even you are sleeping, sitting upright, or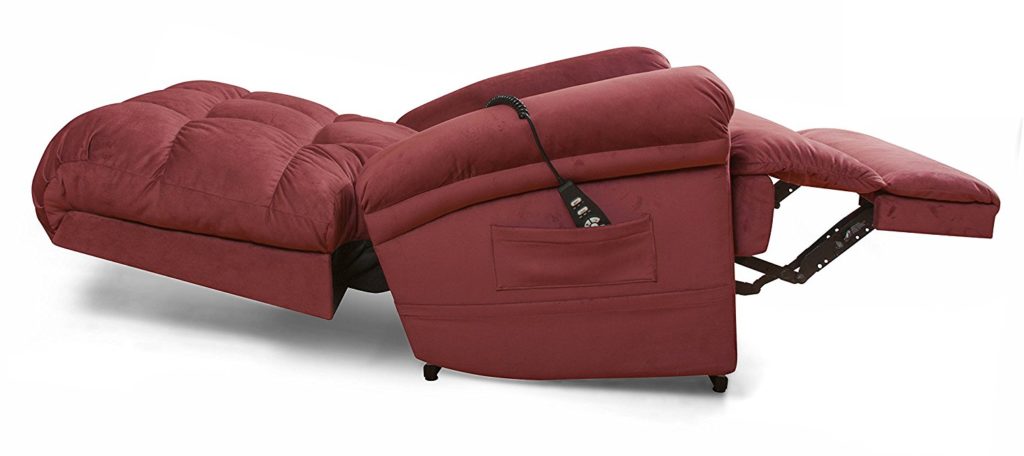 watching your favorite program on TV. The Perfect sleep chair as the name suggest is primarily designed to be a sleeper chair that supports vibration massage and heat therapy for back pain relief. The chair supports users up to 375 lbs of weight and includes a lifetime warranty of lift/ recline mechanism.
Pros
Allows you to select the level of massage and heat you require to fall asleep and to alleviate back pain.
Enhances your physical wellbeing – you will enjoy back pressure relief and enhanced posture
High-quality craftsmanship
Supports up to 375 lbs of weight
Supports user from 5″4′ to 6″2′
Cons
Does Medicare cover lift chairs for the elderly?
Yes, Lift Chairs are considered Durable Medical Equipment (DME). And they are covered by the part B of your medicare coverage.
Medicare would usually pay around 80% of the total cost of your lift chair. And you'll be liable to pay the rest of the amount.
On the downside, Medicare only covers the electric motor and lift mechanism of the lift chair. Any other claims of covering the cushions, leather or aesthetics are not provided. Hence, avoid buying lift chairs that use springs for lift mechanisms. Cause they won't be covered.
You also need a medical document from your physician that states that you really need this medical equipment to function properly. After the purchase, either you or your supplier is supposed to submit a reimbursement form claiming the amount Medicare owes you for the purchase.
Conclusion:
A power lift chair not only offers you a high level of comfort but also allows you to retain your independence. The lift function allows you to stand up and get out of the chair easily while the reclining feature provides real comfort. Individuals with pains and aches will enjoy the ability to relax and recline in the power lift chair.