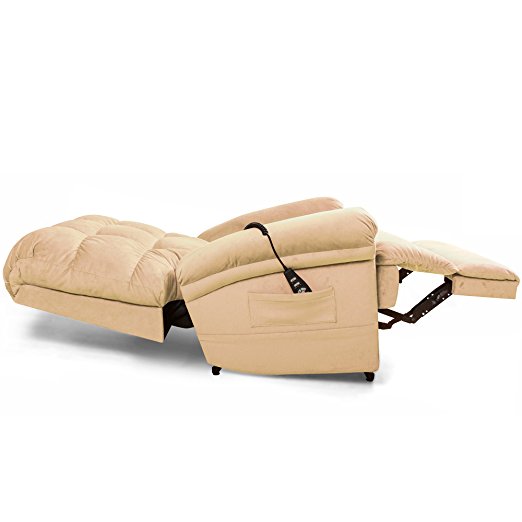 There comes a time when your normal recliner is just not enough to treat you the way you deserve. At the end of the day, after all the work. You need something better than that boring lift chair, you've been sitting in for years.
Something, that is comfy, relaxing and by all means gives you the best reclining positions with zero effort. One such product, is the perfect sleep chair.
This chair is not just a typical lift chair. And when I say that, I mean it can be used as a medical, sleeper, lift and as a semi-massager. It has got a great combination of features that makes it worth it for people who medically need it, and for the ones who are looking for a much normal use.
Specifications
Weight Capacity: 375 lbs
Total Weight: 125 lbs
Supported Height: 5'4 to 6'2
Backup Battery: 9V
Max Recline: Trendelenburg position
Perfect Sleep Chair Review Summary:
Zero gravity Positions
3 in 1 use – Sleeper, medical, lift chair
Heat Therapy
Comfortable Design
Battery Backup
Feature #1 | Zero Gravity Position
No, the chair doesn't fly! Nor does it makes you hover or actually go weightless. But zero gravity actually refers to a position that can distribute your weight equally throughout the body. Result? A stress-free body! It is something that works so well ,even NASA uses it to help astronauts cope with enormous G-force while rocket launch. But don't worry, you don't have to be in a space rocket to benefit from this feature. The perfect sleep chair's zero gravity position can help you fall asleep more quickly and for longer periods of time. Which makes it the perfect option in sleeper chairs. Moreover, assuming in a zero gravity position can better blood circulation in your body. Which in it's own, has a good number of health benefits.
Feature #2 | 3 in 1 Use
Ask yourself, when was the last time you found yourself sleeping in a chair?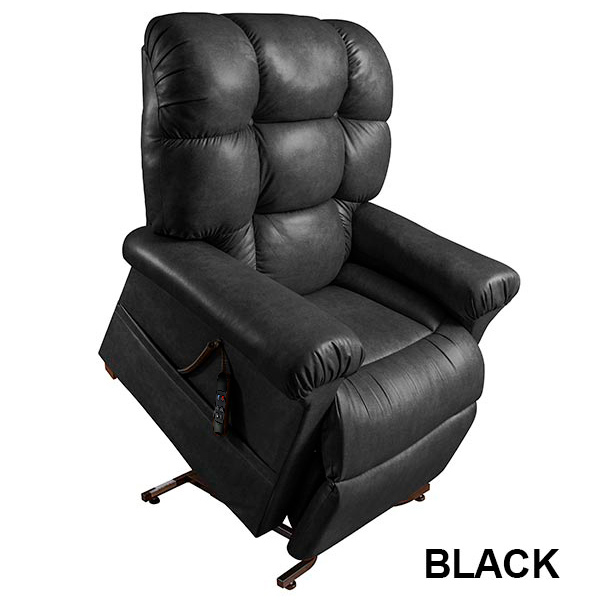 Think. If you're still thinking, then perhaps it didn't happened anytime soon, or maybe never. But this can change
with the perfect sleep chair. Which is primarily designed to be a sleeper chair. Reclining in a zero gravity position can magically help you take off to dreamland. And for users who are a bit choosy, you can tweak the recline to your personal liking.
For people who are medically challenged or are going through senile weakness. It is a lift chair! It can help you get off the chair with zero effort involved. With the push of a button, it can lean forward, and get you on your feet.
Recommended Read: Sole Treadmill Reviews
Recommended Read: Top Rowing Machines
And its third transformation is a semi-massager – vibration massage. Although, the massage features this chair provides don't come even close to a massage chair. But it's always nice to have these little features in your chair. Because ultimately, they all adds up to the experience.
Feature #3 | Heat Therapy
The perfect sleep chair is the best recliner for taking a nap in winters. After all, what else can you wish for when you have the most comfortable sleeper chair with warm cushions and adjustable recline positions in a cold winters night ?But wait. The uses of heat therapy aren't only limited to winter. It is also an effective method to alleviate back pain and in some cases it can even prove to be a complete treatment.
Feature #4 |   Made for Comfort
The perfect sleep chair has been designed to give the best possible comfort to a hopeful sleeper. The biscuit style back, high-density sleep foam and the unique seat design helps you fit in comfortably for longer duration. The leather  used is scratch/stain resistant and durable.
Feature #5 | Battery Backup
The perfect sleep chair can also function on battery, in case of power outages. Sudden power outages can hurt electrical machinery, but with the backup you can use and turn off the chair in a safe way. The presence of battery backup also enables you to take this chair out in your lawn or backyard where electrical supply is not present. The chair supports a 9V battery. Although, it is not included in the purchase.
Warranty Information
Perfect sleep chair gives one year service warranty to every part of the chair. Though, the lift frame and recline/lift mechanism is covered for lifetime under this warranty.
Pros
1 ) Zero Gravity Position
2) Heat Therapy
3) Medical, sleeper and lift chair
4) Battery Backup
5) Pockets on both sides to keep magazines and remote control
6) Adjustable heat intensity
7) Vibration massage with multiple settings
Cons
1 ) Expensive chair