Asia has so much to offer because of its rich culture and history, alongside its magnificent places to visit. There are many spots for adventures on mountains and volcanoes, serene beaches, busy cities, and quiet remote towns.
When traveling, it is a given that people consider not only what the places have to offer but also the cost. Check out some of the best places to travel in Asia below. To make this list, we have considered the costs, accessibility to other destinations, and other travelers' feedback.
Bali, Indonesia
Bali means heaven, and it is a heaven that you can visit. The term "Bali" still conjures up images of a fantasy landscape: towering volcanoes hidden beneath a lush green canopy, white sand beaches stretching into turquoise waters, and winding coastlines dotted with staggered pagodas.
You'll be astounded at the diversity of visitors to this sanctuary. For the average traveler, staying at the opulent seaside resort means unwinding with great spa treatments, delectable meals, and languid days spent in the sun.
There are numerous temples on the island, and adventurers can scale an active volcano near Kintamani for a breathtaking view of the island. People who enjoy partying until dawn can find plenty to do in Kuta.
Bangkok, Thailand
Newcomers to the city often describe it as being "trapped" between the past and the present. Thailand's capital is a mix of ancient temples and modern retail malls, and Buddhist monks and Patpong (Bangkok's red-light district) regulars coexist on the city's streets. The contrast may produce an exciting yet chaotic environment.
As a result, Bangkok's fast-paced environment demands a lot of effort. This unusual oversupply of everything from humidity to humanity is what attracts tourists to the city, despite its seeming overflowing state.
If you want to see the largest open-air market in the world, a 150-foot golden Buddha statue, and an aquarium housed in an eight-story shopping mall, this is the place to go.
Chiang Mai, Thailand
As one of Thailand's most fascinating cities, Chiang Mai exudes similar energy to Bangkok but offers a more tranquil setting because of the surrounding mountains and its northern location. Visits to stunning temples like Wat Chedi Luang, Wat Phra Singh, and Doi Suthep-Pui National Park should all be on your schedule.
If you're looking for something a little out of the ordinary to do while vacationing in Thailand, this is the place. There are approximately 300 Buddhist temples in Chiang Mai for you to visit if you prefer this type of activity.
Night markets are plentiful in this northern Thai metropolis. Discover why many digital nomads decided to make Chiang Mai their home with its environment, people, and culture.
Hanoi, Vietnam
For first-time tourists to Vietnam, Hanoi is the ideal destination. Historical, cultural, shopping, eating, and natural grandeur await visitors in the country's capital city.
After a morning cup of Vietnamese coffee, take a stroll through Hanoi's Old Quarter to take in the city's numerous colorful and winding streets. In the meantime, stroll through one of Kyoto's many temples, including the 11th-century Temple of Literature.
The Vietnam Museum of Ethnology is a fantastic place to begin your exploration of Vietnamese culture. More than 15,000 objects depicting Vietnamese life and culture, as well as the 50+ ethnic groups who call Vietnam home, are on display in the National Museum of Vietnamese History.
Hong Kong
With its dynamic, diversified culture and gorgeous cityscape, Hong Kong stands apart from its Chinese neighbors like Shanghai and Beijing. Skyscrapers soar over lush greenery in this British-Chinese combination that surprises visitors.
There's a lot more fresh air than most visitors think. As a world-class metropolis, Hong Kong also has abundant urban attractions, such as culinary hot spots and museums, to offer visitors a unique urban experience.
It's no secret that the city of Hong Kong excels at retail therapy. However, Hong Kong is much more than just a shopping mecca. Visitors can enjoy high-altitude vistas of the city, sample local cuisine, celebrate festivals, watch sports contests, and visit movie sets in the city while on vacation in the area.
Jaipur, India
The city of Jaipur, the capital of the Indian state of Rajasthan, has some of the most stunning architecture in the country. Jaipur's most famous landmark is the Hawa Mahal, a pink palace that was inspired by the crown of the Hindu god Krishna.
Because of the property's staggering 953 windows, the original royal ladies could observe the in and out-flow of the Indian metropolis without being observed.
It is also worth visiting the Jaigarh Fort, Panna Meena ka Kund, and the Jantar Mantar, a UNESCO World Heritage Site including enormous astronomical instruments in their original settings.
Kyoto, Japan
As the capital of Japan from 794 to 1868, Kyoto has been a thriving center of Japanese culture, art, and learning. It's not surprising that millions of tourists flock to Kyoto each year to get a glimpse of royal Japan.
It doesn't matter where you point your camera; modern-day Japan will always appear in the background. There are numerous Shinto temples and pagodas and the headquarters of enterprises such as Nintendo and Kyocera in the city.
This bustling city isn't locked in the past, thanks to its unique blend of ancient and modern elements. Kyoto is the country's cultural heart, for it has the best temples, shrines, gardens, geisha, shops, restaurants, and festivals in Japan.
Maldives
The Maldives is full of picture-perfect private homes perched high above the crystal-clear ocean, powdery white sand beaches, and fiery orange sunsets. The Maldives' natural beauty is lovely as it is a tropical archipelago between the Arabian and Laccadive seas.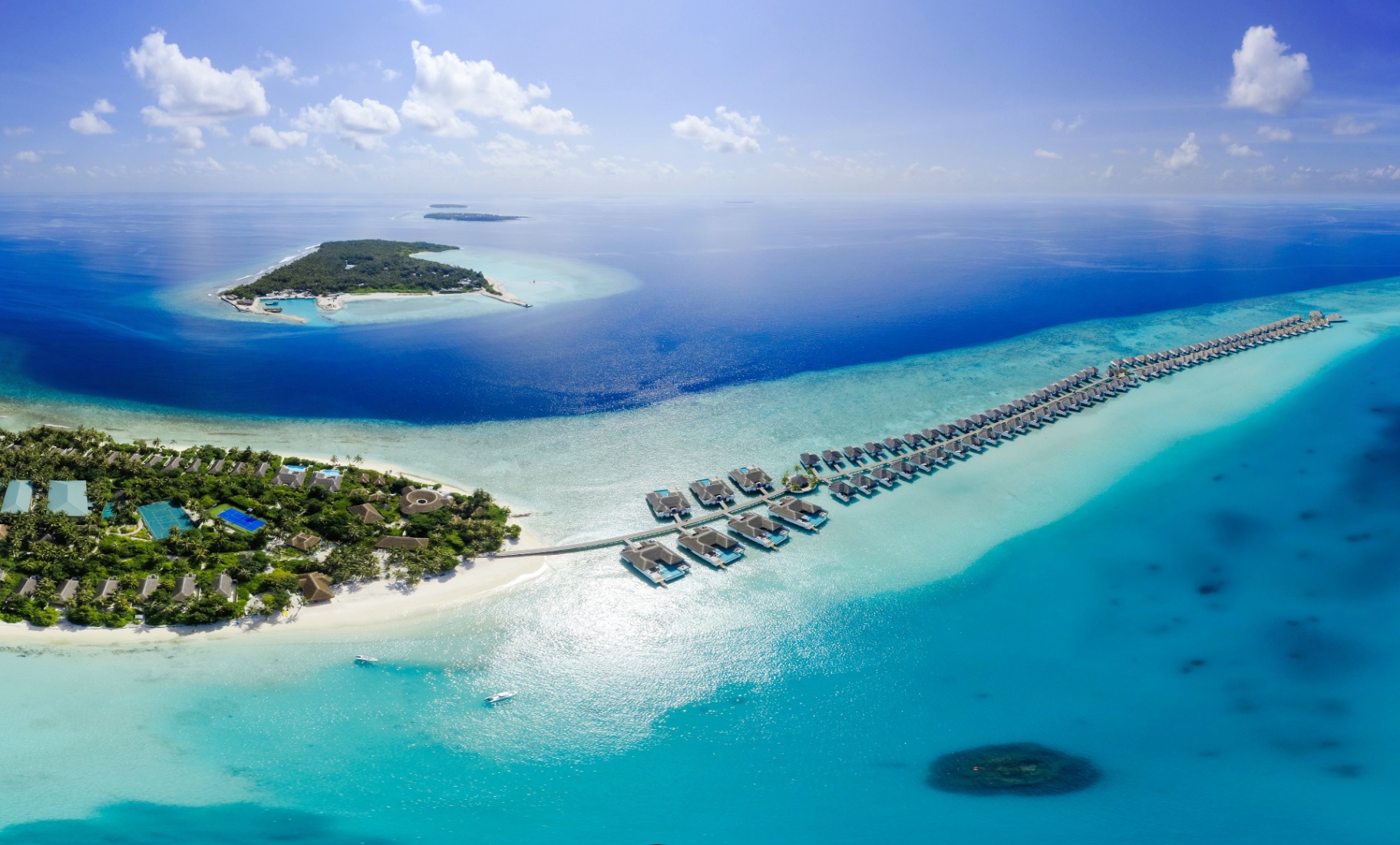 In the Maldives, scuba diving and snorkeling are popular pastimes for honeymooners and adventure seekers. Malé, the capital of the Maldives, is a must-see for all visitors, as are the island's spas and the capital, Male.
Resorts and hotels in this region are likewise stunning, with options ranging from underwater hotels to overwater bungalows. There are no direct flights from the United States to this tropical paradise, so you'll need a lot of patience and money to get there and stay there.
Phuket, Thailand
If you're looking for a place to get away and enjoy some of the most beautiful scenery in the world while you're on vacation in Thailand, Phuket is the place for you. The Andaman Sea surrounds this paradise-like island, which is only a one-hour flight from Bangkok.
Phuket also offers reasonably priced accommodations, spa services, and boat cruises. Besides Phuket's tropical setting, visitors flock to the island to sample the local food, such as lemongrass, lime leaves, and chilies.
Moreover, Phuket has a fascinating, diverse culture dramatically affected by the country's dominant religion—Buddhism.
Railay Beach, Thailand
Railay Beach is a must-see if you only have limited time to visit Thailand. Located in Thailand's Krabi district, Railay Beach is a stunning stretch of white sand bordered by limestone rock formations that jut out into the water.
You can only get to this beach by boat, making it even more enticing. Tourists flock to neighboring Ao Nang for day trips.
Sagarmatha National Park, Nepal
Mount Everest is the centerpiece of this Nepalese national park. Sagarmatha, on the other hand, is more than merely Everest. Additionally, the park has several additional high peaks, broad valleys, glaciers, deep gorges to explore, and some of the world's most amazing fauna, including snow leopards and red pandas.
Sagarmatha's high altitude and rocky, steep terrain make a visit here difficult for those without experience and skills.
The Himalayan monal, snowcock, yellow-billed chough, blood pheasant, and red-billed chough are just a few rare and endangered birds found in Sagarmatha National Park. BirdLife International has designated Sagarmatha National Park as an Important Bird Area.
Seoul, South Korea
Seoul's gorgeous architecture, rich culture, and booming economy are all evidence of the city's tenacity today. South Koreans may appear to be rushing towards the future in Seoul, yet they are firmly rooted in their country's rich history.
Historical treasures and nightlife hotspots in the heart of Seoul can be tucked away in the city's bustling shopping and entertainment districts. Within walking distance of Seoul's center, you'll find the oldest and largest of the city's five Joseon-era palaces, Gyeongbok Palace.
The past and of Seoul don't conflict but, instead, complement one another like the one-story dwellings are a stark contrast to the surrounding high-rise buildings. The city's attractiveness is from its harmonious combination of old and new, which is a core component of Seoul's identity.
Singapore
The best of the best, Singapore, a modern Asian metropolis, is a breathtaking sight, especially for those who have been to other Asian cities. Additionally, the city's Little India and Chinatown ethnic neighborhoods keep the town vibrant and ethnically diverse.
Singaporeans are hard-working and patriotic and take great pride in their accomplishments and achievements, like Marina Bay. Although the city's skyline continues to rise, Singaporeans aren't forgetting their history or the importance of their environment.
Amateur historians are invited to explore the museums' expansive halls. In contrast to Singapore's modern successes, huge wetland preserves are found on islands.
Taipei, Taiwan
Taipei's capital is a must-see for everyone visiting Asia, thanks to its night markets and ancient sites. Visit the National Palace Museum, where you'll find an extensive collection of Forbidden City antiques. Stop by the Shilin Night Market for some delicious Taiwanese street food, including the country's famous smelly bean curd.
Many of the nation's best museums can be found in Taipei. Chinese imperial artifacts from the National Palace Museum and the National Taiwan Science Education Center can be found in the capital.
Tokyo, Japan
To describe Tokyo, "animated" might be the finest term. Everywhere you look in Tokyo, you'll hear people talking, walking, driving, taking the metro, and ships coming and going. Bright lights and loud signs, however, beckon you into a moment of pause, to pray at the altar of consumerism for just a few moments.
Movement and progress are the lifeblood of this metropolis. Everyone seems to be moving, but the city is worth the pause. When you visit Tokyo, take a moment to pause to appreciate the beauty of the buildings and moving people with the backdrop of a clear sky.
Tokyo's museums and historical landmarks are world-class, although tech-savvy residents may simply pass by the monuments and urban parks regularly. Don't forget to consider visiting Tokyo during the cherry blossom season.
Conclusion
You will never have a hard time looking for a place to visit in Asia, as the continent is full of rich culture, warm people, delicious food, and exquisite view.