Heat therapy is one truly therapeutic feature of heating massage chairs. And is the reason why many are attracted towards the concept of robotic massage.
Massage plays a vital role in one's self-care routine, whether it is after a hectic day at work or simply during one's leisure time. Heated Massage is an important component of an optimum massage, which is why all chairs on our list offer them. With comfort and relaxation, heat therapy helps improve blood circulation in the body and eliminate chronic pain and illnesses with a soothing sensation.
Over the years, massage chairs proved their ability to be a perfect substitute for a human masseuse. Gone are the days when a specific niche could use them owing to their high price and complex design. In fact, they are more cost-effective and likely to replace home furniture with their amazing features and designs.
Before you read the review guide, here is a quick summary of our top 2 picks:
Kahuna LM6800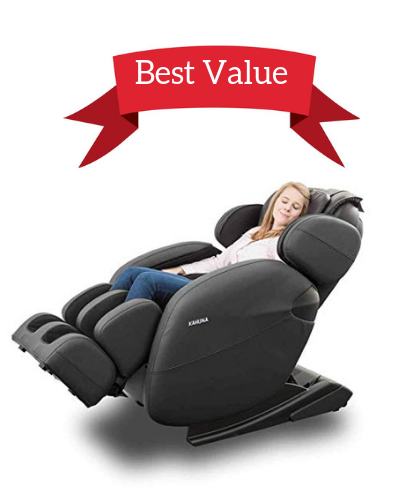 Main Features
S/L-Track, 4 Roller Massage System
6 Automatic Programs based on Shiatsu Therapy
5 Manual Massage Techniques
Body Scan Technology
3 Zero Gravity Positions
Space-Saving Technology
Dual Foot Rollers on the feet area
Lower Back and Calves Heat Therapy
Yoga Stretch
Adjustable Roller Speed and Air Cell Massage up to 3 Levels
Specifications
Warranty: 3 years
Voltage: 110-120V
Frequency: 50/60 Hz
Power Consumption: 230W Max
Box Dimension: 65 x 30 x 40 Inches
Chair Dimension: 48 x 31 x 46 Inches
Net Weight: 249Lbs
Fully assembled body except for the side parts of the chair

RELAXONCHAIR [MK-CLASSIC]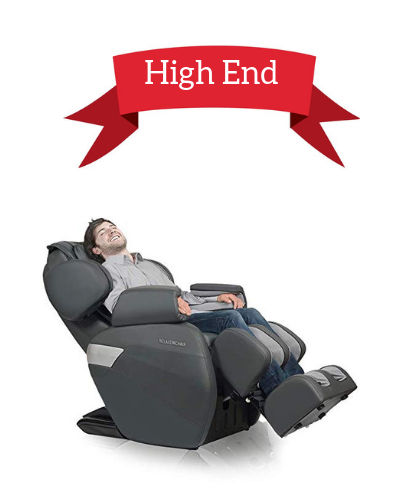 Main Features
Longest L-Track System
Body Scan Technology
3 stage Zero Gravity Positions
7 Automatic Programs
Full Manual Control Massage Program
Yoga Stretch Function
Adjustable Should Airbags
Air Massage System with 42 Airbags
Heat Therapy
Enhanced Foot Roller
3 level Air Intensity/Speed control
Back-Lit Remote Controller
30-minute Timer
Foot Rest Extension
Sleep Mode Activation
Durability and Reliability
Specifications
Warranty: 3 years
Product Dimensions: 55 x 32 x 49 inches
Shipping Weight: 253 pounds
8 Best Heated Massage Chairs of 2019 – Buyer's Guide
1. Kahuna LM6800 Heated Massage Chair
This device helps you relax and improve blood circulation in your body. Its diverse features and massage techniques prove to be an instant relief for chronic back pain and reduce stress levels. It does a pretty decent job with a good design, features and massage techniques. With an overwhelming amount of positive reviews, this product has the potential to be your ideal massage chair. If you're okay with a mild noise while operating and a few limitations, this product is the right fit for you.
Heat Therapy is not offered by every single massage chair in the market. Even a small proportion of chairs that offer it do so only for the lower back region.  Kahuna overcomes this through extending the areas from shoulder blades to the lumbar area, as well as the calves. The only downside is that it does not come with required controls to adjust the heat elements and temperature according to user's preferences. It's either they use the heat therapy or they don't, which is disappointing but negligible in this price range.
Pros

Cons

FDA Registered Medical Device

Space-Saving Design

Variety of Massage Techniques and Programs

Heat Therapy – Lower back and calves

Zero Gravity, Yoga Stretch and other worth mentioning features

Easy to use

Brand Reliability

Highly Customizable

Noise

Potential issue with Delivery and Installation

No Memory Option

No MP3 Support
The service it offers in this price range makes it the one of the best massage chairs under $2000 category. The heat therapy is definitely among the best in the market.
2. RELAXONCHAIR [MK-II Plus]
Its L-frame design enables the rollers to move smoothly under the seat to give a thorough massage with built-in sensors enhancing the massage effectiveness. The chair is adjustable according to different body sizes. Airbags and Zero Gravity positions further relax user's body by stretching the muscles and distributing the body weight evenly.
The massage techniques include Kneading, Tapping and a combination of both. It is one major limitation as other competitors in this price offer a good variety of them. Furthermore, the heating therapy feature is only available for the lower back part unlike Kahuna that offers both lower back and calves. With no temperature controls, you cannot set the intensity of heat as you like. The 2 heating pads are not easy to adjust according to the user's lower back. However, having a heat therapy feature still adds value to the chair at this price range,
Pros

Cons

FDA Registered Medical Device

Affordable

Heat Therapy

Simple Installation Process

Massage Techniques are well-implemented

Benefits Chronic Pain Sufferers 

Noise

Extending Track does not extend very far

Foot-Rollers might be too intense for the user's feet
It is recommended for people suffering from chronic pain as well as casual users who have a limited budget. Heat massage performance is good when compared to other massage chairs.
3.RELAXONCHAIR [MK-CLASSIC]
This massage chair is an all-rounder supporting 7 significant massage functions and features suitable for majority of users, owing to its flexibility in terms of size. It features the longest L-Track system with the ability to scan anyone between 5'2-6'5 following another additional 6″ extension in footrest for taller individuals.
Heat Therapy feature works decently in the MK-Classic with an extension from lower back to calves in this RELAXON chair model. The desired temperature and element control is still missing in this product but proves to be better than MK-II Classic. In addition to heat therapy, 42 airbags are located for the shoulders, arms, calves and feet. With this combination, it can definitely improve blood circulation and relax muscles with less pain and ache.
Unlike other competitors in the market it gives the vibe of a standard massage chair which makes it hard to blend with your home décor. With so many attractive designs in the market, this can affect the sustainability of this product as it seems outdated by its design.
Pros

Cons

Longest L-Track System

Heat Therapy

Yoga Stretch Program

Fully Tested

Easy to Assemble
If the massage techniques and quality are more important to you than aesthetics, you should go with this product. It is flexible covering all important features as well as a really good heat massage feature.
4. Titan TP-Pro 8400
The extended L-Track roller is a highlight when we talk about its benefits. It comes fully assembled with an easy to use remote control enabling you to select your desired massage technique as well as control the intensity, speed and position. 
Dual heating pads are attached in the lower back area. It would have been better if they offered more heating pads in other body areas such as legs and feet. The machine does pretty well in its forte; massaging maximum body parts with several different techniques and a great design that allows you to relax. One major limitation of this chair is missing out on providing some important features, which are offered by many other chairs of today.  
Pros

Cons

Solid Performance

Heat Therapy

Attractive Design

Adjustable Foot Rollers

Good for Broad Shouldered Users

Durability

Missing Features: No 3D Rollers, Vibration Feature, Stretch Program, Hip Airbags
If additional features and rollers is not your thing this machine will be good for you. It might not be the cheapest chair in the market but at the given price it works fine.
5. Ideal Massage Full Featured Shiatsu Chair
This product comes in an affordable range with a good mix of features. It includes 4 predefined programs as well as 4 massage techniques including Rolling, Shiatsu, Kneading and Vibrators. These techniques relax your body efficiently by stretching your muscles and reducing the pain simply through inducing vibration and exerting the required pressure.
Heat Therapy is offered in the lower back region. The chair takes its time to warm at first and it is good to go. It does a decent job at providing therapeutic massage but lacks in many other areas when compared to its competitors. Kahuna LM6800 and RELAXON [MK-II PLUS] are better options in the given range, both being FDA approved and offering better features in the same price segment. 
Pros

Cons

Reasonable Price

Heat Therapy

3D Technology

Uninterrupted Massage Sessions

Highly Relaxing due to good airbags

Unfavorable Return Policy

Positioning of Neck is uncomfortable

Remote beep near the end of every session may be annoying
With better products in the market, this device is not worth the cost related to the exchange policy if user changes their mind after purchase.
6. Kahuna SM-7300
It comes at a mid tier price range. This model is very much similar to Kahuna LM6800, with some more innovative features like Yoga and Athlete auto-programs. Unlike Kahuna's other models that provide heat to both lower back and calves, SM 7300 has their heat massage restricted to one body area only; lower back. There is no progress in terms of heat control. In that case, it is disappointing with this price range.
Though this product has received many positive reviews, there is a fair amount of people disappointed with the purchase. The product aims to cater user needs with taller bodies but fails to provide for big body sizes. If size and budget are not an issue, this limitation should not affect your purchase.
Pros

Cons

All the core features are present

Heat Therapy

Mid-Tier Price Range

Specific Upgrades for pain sufferers

Good Customer Service

LED Lights cannot be turned off

Only 1 Zero Gravity Position
For chronic back pain relief at a mid-tier price range, this is a good option for you. However, it is recommended to test the product before you finalize the decision to buy it.
7. Osaki OS-3D Cyber Pro
This massage chair has the ability to provide its user with an optimal massage experience. It lets you have good control over your massage settings with quiet rollers and effective massage. The massage can be both vigorous and soft based on your preferences. If you get annoyed by noise, this problem is resolved with this model. The comfortable design allows the user to remain asleep even after the session ends.
Heat Therapy is provided in the lower back area with no temperature controls, which is disappointing. At this price, we expect Osaki to perform better in this regard. Due to the faux leather cover of the chair, sometimes the user will just prefer to have the massage without heat function as it gets sticky.
Another major limitation is the inconsistent pressure while using preset programs. It happens because of the weak body scan system affecting the target massage areas chosen to optimize the massage. To avoid this, the user has to change the settings manually. The music system of this device is of poor quality with limited speakers, so it would be advisable to use another device if music is important to you.
Pros

Cons

High Quality Product

9 Massage Programs based on 6 Massage Techniques

Feature packed chair

Heat Therapy

Point and Zone System

Easy to use

Highly Customizable

Good Customer Service

Pricey

Poor Music System Quality

Inconsistent in Preset Programs

Bulky Chair
If you have the budget to spend on a quality chair, Osaki OS-3D Cyber Pro is a great choice for you. With regard to its heat massage technique, we are not satisfied as Kahuna LM6800 and RELAXONCHAIR [MK-CLASSIC] offer a better service comparatively.
8. Cotori Massage Chair Recliner
This device is a low price-range product that performs majority of the basic massage functions really well. It is manufactured by Real Relax Company, which is relatively new in market. It offers a soothing heat therapy in the back area to help relieve pain. In the given price, having this and many other important features is a good pitch.
Pros

Cons

FDA Approved

Air Massage

Heat Therapy

Zero Gravity

Extendable Ottoman

Easy To Use

Limited Programs

No Rollers

Poor Customer Service
If you are looking for a low-priced chair with basic features, this chair is suitable for you. The heat massage and overall massage experience is not the best in the market but definitely worth the price.
Buyer's guide
Here are the 9 most important things to consider while selecting a heated massage chair:
Main Features

Massage Programs and Techniques

Size and Design

Durability

Heat levels and Heating Pads

Rollers, Airbags, Intensity and Controls

Warranty

Budget

Customer service
Conclusion
Your ideal heated massage chair is totally dependent on your body's tolerance to heat levels, preferences and budget. Unfortunately, there is no chair with heat temperature controls to adjust the intensity of heat. This is a major con as heat sensitivity differs for every individual. Kahuna LM6800 and RELAXONCHAIR [MK-CLASSIC] are the only two chairs that offer extended lower back and calves heat massage.
Other than these, Osaki Os-3D Cyber Pro is another good option but has its limitations. With a premium quality chair, we could expect a better heat massage quality that it fails to provide. It is advisable for you to invest in good heating pads to enhance the heat massage experience offered by these products.
The Osaki OS-3D Cyber Pro is the most expensive yet the most feature packed massage chair. This product is an all-rounder high quality massage chair that justifies the high price. For chronic pain relief, Kahuna chairs are the best along with RELAXONCHAIR [MK-II Plus]. Real Relax Massage Chair Recliner is for budget conscious casual users who are looking for a basic massage. Other massage devices like RELAXONCHAIR [MK-CLASSIC] and Ideal Massage Shiatsu Chair are also good options alongside Titan TP-8400 as they offer a solid service in their respective niche with their own limitations, just as other high rated devices.