You'll come across hundreds of different rowing machines on the market. The Concept 2 Model D is among the most popular models. It's marketed as a commercial, gym-standard rowing machine. Many users recommend it for other people who're seeking a top-quality unit, asserting that it outranks most other models with its exceptional features and performance.
Below, we review the Concept2 Model D to help define whether it actually lives up to the hype. This detailed review is completely
non-biased and accurate. We look at exactly what it offers, regarding important factors like reliability, durability, and effectiveness. We discuss the exact value afforded by each of this unit's features.
Concept 2 Model D
It's manufactured by the reputable Concept2 Inc. – a firm that has decades of experience making top-selling rowing machines. You'll typically come across the Model D Rowing Machine in health clubs, fitness gyms, boathouses, and other training facilities.
It's commonly used by professional rowers and Olympic athletes. This unit is availed in two different color options: black and light gray. It comes packed along with a guide to using the PM5 display, tools, chain oil, assembly instructions, and a comprehensive user manual.
Specifications at a Glance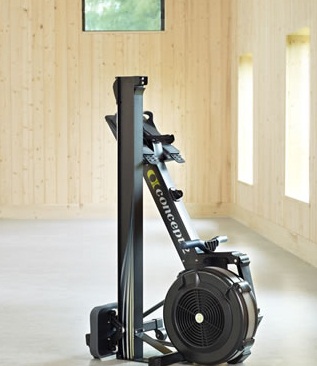 Overall Length: 96 inches
Overall Width: 24 inches
Monorail Length: 54 inches
Seat Height: 14 inches
Chain Material: Nickel-plated steel
Power Source: Two D-cell batteries
Machine Weight: 57 pounds
Max User Weight: 500 pounds
Build Quality
The Model D is among the best-built rowing machines available on the market. It boasts superior quality which makes it ideal for use in homes and health clubs. You're definite to appreciate the premium touch on all of its parts, right from the front, to the legs and monorail, including the stainless steel seat-track. The I-beam monorail and front are made out of aluminum.
Such integrations enable this unit to handle various levels of workload properly. You can be confident that this machine won't hang or break if you row with maximum power. It's conveniently sturdy and durable.
Weight and Height Capacity
This model outdoes many other similar models with its 500-pound weight capacity. Furthermore, short users and children find it simple to row using this unit. It's quite clear that the manufacturers had tall people in mind when designing this model. Tall users, measuring up to 6'8, have not reported any concern or trouble in their rowing sessions. The monorail measures 54 inches long, fitting inseam lengths of up to 38 inches.
PM5 Monitor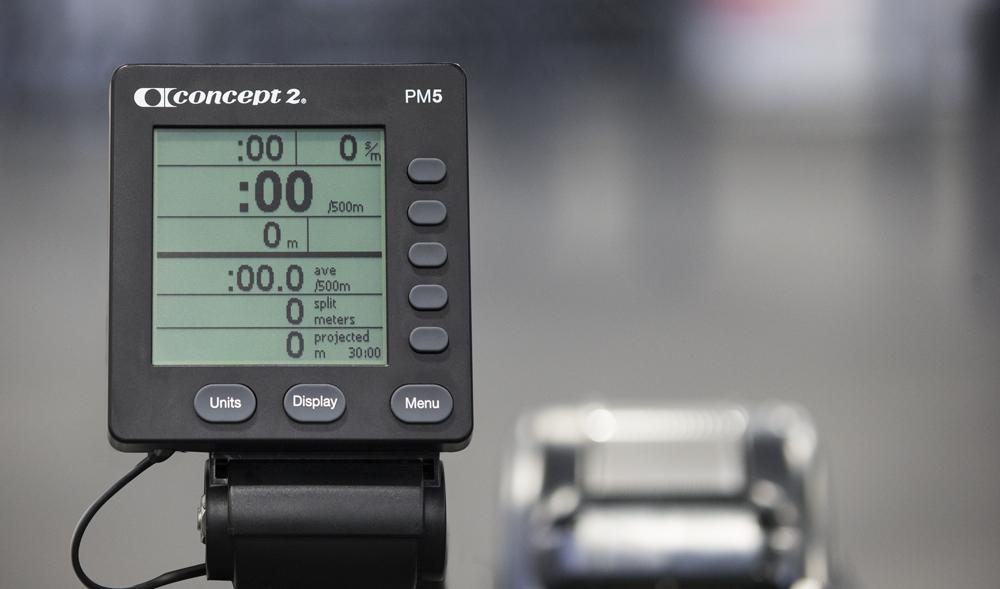 The Model D comes integrated with the unique, user-friendly PM5 monitor. You get a minimal-sized computer that offers multiple, different options to help enhance your training. The backlight display is adequately bright and visible for all users. You won't have any challenges in checking information, even when working out in low-light scenarios.
Seating
This model features a padded and contoured seat which can tilt. That helps maintain the ideal upright and comfortable posture. It's incredibly simple to get on it and off, measuring just 14 inches off the ground. Rubber grips are incorporated on the handle for conformability. The adjustable footrests ensure that the user's feet don't slip while rowing.
Air Resistance
This unit is powered by a reliable air resistance system. Pulling its handle creates wind. More wind makes it more challenging to pull the machine. That translates to higher resistance. This kind of resistance is comparable to that provided by water.
This system is ideal for ensuring consistency in your rowing exercise. In fact, it's the same mechanism favored by popular Olympic athletes for off-water training. Also, most college and High School teams make use of the Model D for practice.
The resistance is evenly distributed, thus making the user's rowing sessions smooth. The input effort determines the resistance level. You won't need to keep changing the resistance levels. It'll adjust according to your particular requirements.
Damper Adjustments
The dampers are an efficient way of adjusting the rowing intensity. They're like the gears found on bicycles. The damper settings control the air which goes into the unit's flywheel.
You can choose to row in the Lower (1-5) or Higher (6-10) Settings. The latter makes the boat feel slower and heavier while the earlier makes it feel faster and sleeker. You'll have an easy time setting the right level of resistance for best performance.
Data Tracking
With the Concept 2 Model D, you'll easily track crucial factors like speed, distance, pace, calorie burn, and watts. All of the necessary information is displayed with ultimate accuracy. There are additional features, too, including inbuilt rowing games, pre-programmed sets of workout, and more customization options. For instance, the 'Instant Start' feature doesn't require one to choose the mode before starting to row.
You can also select the most suitable display options, as well. It offers four different options:
1. Pace-boat – It compares your rowing data with other pre-set boats for better analysis.
2. Large Print – It displays the information in larger fonts.
3. Force Curve – You'll find it useful when analyzing how smooth your rowing sessions are.
4. Bar Chart – It displays the information in the form of a bar graph for better analysis.
Monitor Your Heart Rate
The Concept2 Model D makes use of the innovative Bluetooth Smart Technology which, in turn, allows for advanced analysis. You'll find this feature reliable when you need accurate tracking of microform data, like the heart rate. You're just required to purchase a compatible strap, and you'll be good to go.
Manage the Workout Data
You can transfer your workout data smoothly to a connected USB drive. However, you'll require the 'Concept2 Utility' tool to achieve that. Besides, you'll come across multiple, compatible third-party applications for the PM5 Monitor data.
Assembly and Storage
You need not have any professional or technical experience to assemble the unit. It comes included with all elements necessary for assembly, including washers and screws. The included wrench tool makes the process even easier.
Yes, this machine has a higher footprint when expanded. But, it folds into two pieces to achieve a compact size that's ideal for storage needs. Just disconnect the monorail and top portion. Disassembling this unit takes just a few seconds. You'll especially find it handy if you've limited space for storage.
Customer Support
Quite many users have voiced positive opinions regarding the Customer Support. The brand has a professional support team that responds promptly and helps deal with any raised concerns. Aside from that, there's an online community that's quite resourceful when it comes down to rowing with the Concept2 Model D.
You can look up the videos available on the Concept2 website for help with assembling this machine. Additionally, it might be worth the effort to read through the troubleshooting section contained in the included instruction manual.
Pros
-The Concept2 Model D comes integrated with an accurate and versatile PM5 monitor
-The unit has been manufactured by Concept2, a trustworthy and reputable brand in the field of rowing machines
-Assembling this machine takes just a few seconds
-Both the Customer Support and online community are quite helpful and resourceful
-The 30-day Money-Back Guarantee reassures you of the unit's top quality and durability
Cons
-The machine might be a bit noisy due to the kind of resistance it uses. Many people make use of ear buds to help block out most of the noise.
Is the Model D Rowing Machine Worth Considering?
The manufacturer avails a 5-year warranty package for the machine's frame. Also, they offer a 2-year warranty guarantee on all parts. While this model offers multiple, high-end features, it's reasonably priced and affordable. It outranks most of the other models available on the market.
The commercial-grade Concept2 Model D is designed to meet the user's needs and personal preferences. This unit has a huge following, receiving over 90% positive reviews on major online marketplaces like Amazon. It's worth considering if you're seeking top-notch performance, unquestionable reliability, and durability. The chances are that you'll be excited about the value that you obtain.