Choosing the best chair bed is a hectic and demanding task. It involves visiting several vendors and trying out the best product for you. Chair beds come in various sizes and features, which makes it a challenging task to choose one, especially if you're not sure which product best suits you. In this article, we will review 5 top of the line chair beds for adults to help you decide which product best suits your needs.
Rivet Revolve Modern Sofa Bed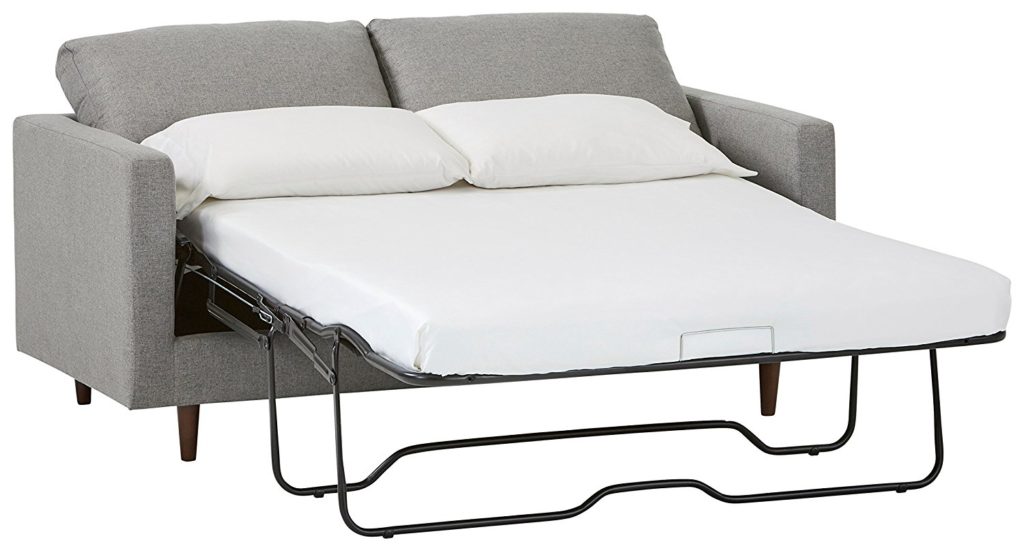 Do you want an exquisite look in your living room? If yes, then this is a sleeper chair you should consider. It has an elegant modern design and unique style. Definitely, these don't come cheap, this chair bed is the priciest of the five. It is currently retailing at (see price here). It is more spacious and comes in two colors: denim and space grey. It features a solid wood frame and a polyester fabric build. It contains high-density foam cushions which are Dacron-wrapped making them more attractive and durable.
Pros
It is made of polyester fabric which is stain resistant and only needs to be wiped with a dry cloth when dirty.
It is strong and durable because it contains a solid wooden frame and sturdy wooden legs which offer great support both in the position of a bed and a chair
Contains flush sides for more comfort
Modern design with removable cushions for easy cleaning
It is spacious. It measures 36.6″ D x 69.7" W x 35.4″ H.
Cons
It is bulky (At about 107 pounds)
Only comes in two colors
It is expensive
Stone & Beam Kristin Modern Round Arm Sleeper Chair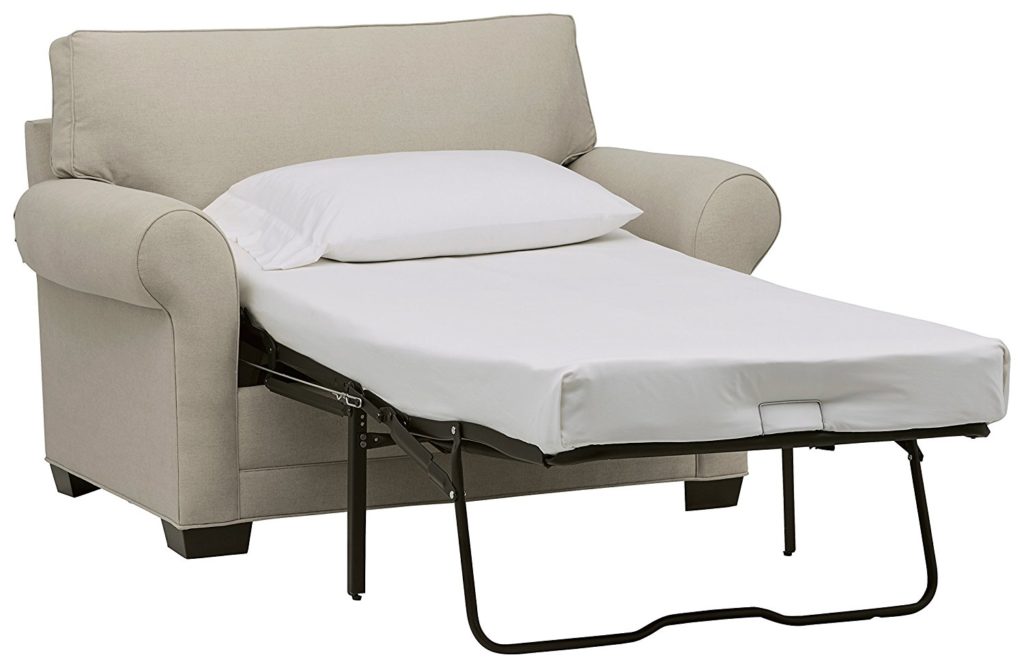 If you found the first one a little steep regarding the price, here is a more affordable one. It has a modern casual design with a nylon and polyester fabric with a sturdy wooden frame that gives it stability. It contains an ultra-modern look and be decorated to fit in any living room. It measures 55.5″ W and 72″ D when it is unfolded into a bed.
Pros
Removable and reversible high-density foam cushions
Robust wooden framework and strong wooden stands
Roll arms to ensure more comfort
Stain resistant fabric that is easy to take care of and clean.
It has a three-year warranty showing how much the manufacturer has trust in it.
Cons
Only comes in two colors: Stone and sand
It is bulky
Smaller than the Rivet Revolve Modern Sofa Bed.
Gold Sparrow New York Brown Convertible Chair Bed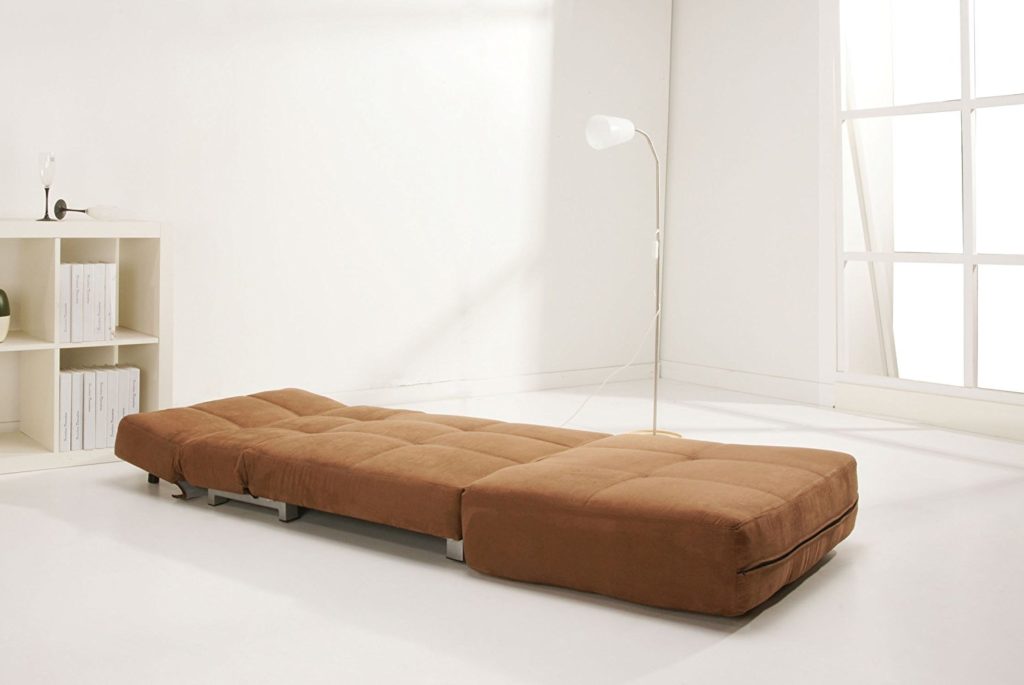 If the first and second ones are simply too expensive, here is a more  budget-fiendly product. It contains a microfiber finish giving it a unique color. It also contains a steel framework which increases its strength. It is easy to operate due to its unique design mechanism that eases conversion. It measures Depth: 35 inches, Width: 31 inches and Height: 28 inches.
Pros
Premium and attractive microfiber finish giving it a distinct look.
It has a unique mechanism making it easy to operate. Conversion from chair to bed is also streamlined.
High-density foam for maximum comfort
It is very stable because it contains steel legs
Cons
It is smaller when compared to the Rivet Revolve Modern Sofa Bed.
Its microfiber finish can quickly get dirty
Its cushions are non-removable hence making it hard to cleans it.
Only comes in one color, gold.
Recommended Post: Murphy Beds for Sale
Cortesi Home Savion Convertible Accent Chair Bed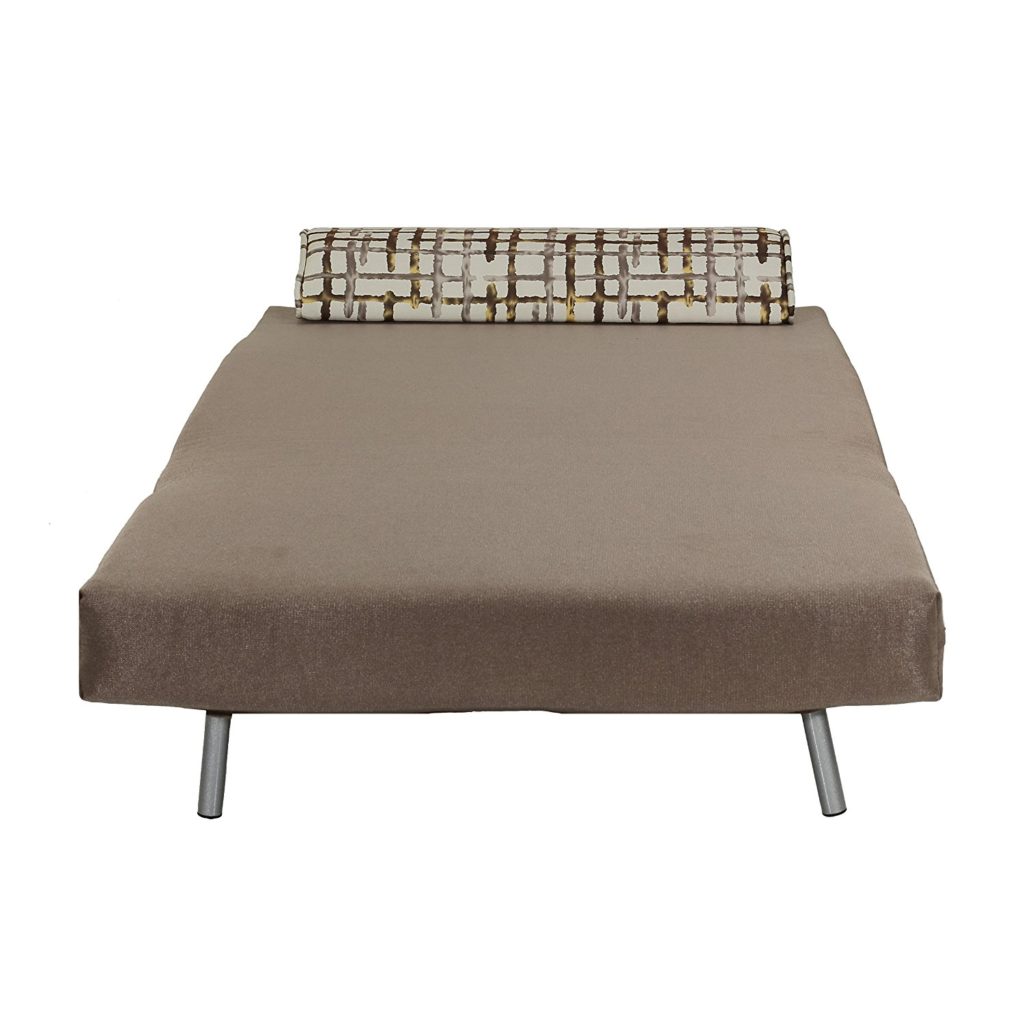 Want one that is a little more advanced within the same price bracket? This chair bed can serve as a chair, bed and chaise lounge. It is simple to set up and can be quickly converted from chair to bed and vice versa.  It features a warm taupe of fabric and metallic legs that give it additional strength. It measures 34″ W x 36″ D x 31″ H. When converted to a bed it measures 34″ W x 78″ D x 10.5″ H.
Pros
It is firm and stable due to the metallic stands
It is easy to assemble. It only requires four bolts.
It is lighter than the other chair beds. It only weighs 55 pounds.
It has a contemporary and attractive design
Cons
It is made of nylon which easily gets dirt
It is not fluffy hence reduced comfort for users
DHP Emily Futon Sofa Bed

Want a basic chair bed at a pocket-friendly price? If yes, then this chair bed is for you. It is made of leather with a metallic framework and metallic stands for stability. It can be adjusted to suit the user's comfort level. It can be easily assembled into a complete set in a couple of minutes. It encompasses a modern look but with a low-profile style. It contains sturdy chrome legs that give it stability. It measures 71″L x 34″W x 32″H when used as a chair and 32″ High, 71″ Wide, 34″ Deep when used as a bed.
Pros
The leather exterior gives it a distinct look and feel
The metallic stands and frame enhance its strength
The user can adjust the chair bed to suit his or her comfort level
It is very spacious
It is cost effective
It is available in a variety of colors
It is light and easy to set up.
Cons
The simple look might not be welcome by many users,
Conclusion
Indeed, selecting the best chair bed for adults is a hectic task. However, by using the information above you can make an informed decision on where you want to spend your money on. The displayed parameters include price, comfort, material, ease of use, size and weight. When selecting a chair bed, it is wise to choose one that meets each of the listed parameters to obtain maximum utility from it. Moreover, stability and durability of the chair bed are also important. So compare, and make you decision wisely.