Continuous positive airway pressure (CPAP) is a treatment for obstructive sleep apnea (OSA). It allows the user to breathe easily during their sleep by applying a steady air pressure on their throat. To get effective results, a regular usage is required; hence a smaller CPAP machine is recommended.
With new compact Cpap machines, it has become easy to not skip on your CPAP routine as they can fit in your travel bag or sleep area without difficulty. So here are our top 3 picks for the
Best Smallest and Compact Cpap Machines
1) Philips Respironics DreamStation Go Auto Travel CPAP Machine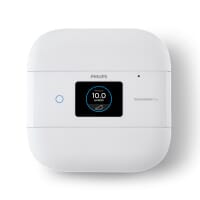 This CPAP machine ranks on the top of our list. It measures 5.937″ x 5.937″ x 2.315″ and a weighs 1.86 lbs. Though it is slightly bigger than Z2 and AirMini, the flexibility and features it comes with make it worth buying.
With this CPAP machine, you can avail flexibility in terms of charging options, mask and tube of your choice. It does not restrict its users to buy original accessories like ResMed AirMini does.
The Flex technology provides pressure relief making both auto and fixed pressure adjusting options available to its users with other advantages like Bluetooth Connectivity, Sleep data trackers, Micro 12mm tubing, USB Charging, LCD Touch screen display etc.
Some users reported the 12mm tube to be very noisy that it disturbs their sleep. The standard 22mm tube is said to be more effective in eliminating the noise. Heated humidification is available but not included in the package unless you pay for it separately, which is disappointing as other competitors include it in their package.
This machine is good for anyone who travels frequently. It is recommended to buy the heated humidification filters to optimize the experience. 
Pros
Portable and lightweight design
Flexible
Includes nearly all features provided by full size CPAP machines
FAA approved
Cons
Noisy
Expensive
Lacks humidifier
2) HDM Z2 Auto Travel CPAP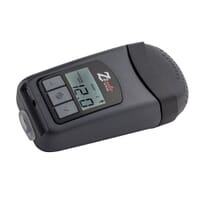 This machine is the second smallest machine after ResMed AirMini, measuring 6.48" x 3.30" x 2.02" and comprising a weight of 0.63 lbs. Z2 is quieter when compared to previous models by HDM manufacturers.
Unlike its previous models like Z1 and other competitors, this motor is quiet. The noise is still there but it is negligible and can be avoided by using a 19mm tube. A small tube does not allow the air to pass through hence the unwanted noise is produced.
The Z-Breathe Comfort allows for auto adjusting options by automatically dropping the air pressure to help you breathe easily. Waterless humidification is also an attractive feature for those who are unhappy with water-based humidifiers.
With Lithium ion battery that lasts full night therapy on single charge and the optional PowerShell Extendable Battery life, it promises a good power backup. The package further includes a customized USB charging cable and tubing for users.
Users who have used both Z1 and Z2 reported Z2 to be a better choice and are satisfied with the purchase. The Nitelog app allows users to track their apnea episodes and sleep data on a regular basis.
Overall, Z2 is a good machine and gives a decent performance.
Pros
Small and light weight than competitors like DreamStation Go
Quiet motor
Flexible with all masks
Z1-Breath Technology adapts to your breathing flow by dropping the pressure
FAA approved
Cons
Shipping delays might be experienced
3) ResMed AirMini Auto Travel CPAP Machine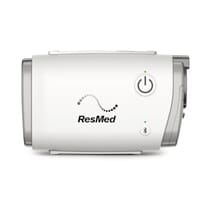 ResMed AirMini is the smallest design in the market with notable features. It measures 5.4″ x 3.3″ x 2.1″ and weighs 0.66 lbs. With this size and weight, it can easily fit in your hand.
AirMini app allows the user to track their sleep data each morning and stay updated about the therapy. In addition to this, the Auto Set modes allow the machine to adjust pressure levels automatically according to the user's breathing flow. Other features including Bluetooth Connectivity are also available.
HumidX Waterless Humidification works well for travelling. However, some users reported to wake up within 2-3 hours of sleep with sinuses and dry nasal passage.
This model is said to be quieter than most of the previous models but some users reported the motor to be noisy. Moreover, the charging wire and tube are ResMed products. If your charger stops working you need to invest in the original accessories because it is not compatible with other brands.
AirMini is the smallest CPAP machine in the market and one of the best options for travel. 
Pros
Small and lightweight design
HumidX waterless humidification
Good variety of features
AirMini Smartphone app
Cons
Noisy
Needs original tubing
HumidX is not compatible with AirFit F20
Limited mask options
Maintenance and Cleaners for Cpap Machines
Wave Medical Products (WMP) CPAP Cleaner and Sanitizer
CPAP machine users are more likely to get affected by germs and other possible infectious diseases resulting from poor maintenance. Hand washing the machine, tubing and masks is difficult and time-consuming. It has become easier with this efficient and portable CPAP cleaner by completing the process efficiently in just 30 minutes.
This CPAP cleaner measures 4.5″ x 3.5″ and weighs 0.5 lbs. With this design and weight, it will not require much space. Since it is important to clean your CPAP machine regularly, this is the best sanitizer for your CPAP machine as it will fit in your bag easily with the machine.
The ozone works 99.99% more efficiently than other chemicals like chlorine to clean your CPAP machine. To prevent the harmful ozone, closed-loop sanitation prevents the ozone to set free in your home space making it safe and efficient to use. 
The only issue is the odor left after cleaning process. Keeping in view the quality and value, this issue is negligible as the odor goes away after some time. 
Pros
Easily and efficiently cleans the machine
Lightweight, portable design
Durable
Works well with all the best CPAP machines
Cons
Odor remains for some time
Some users find it complicated to use
Zopec CPAP Battery Model AC-54
This is an excellent battery adapter for your CPAP machine and other electronic devices. It is reported to be the world's smallest CPAP battery charger with 110V AC outlet. This device is a good investment to avoid running out of batteries and skipping your routine therapy.
It measures 8.9″ x 6.4″ x 1.4″ and weighs 30lbs, which makes it easy to carry with your CPAP machine. It seems heavy but is very lightweight compared to other competitors.
Compatibility with machine is a major issue faced by CPAP users when it comes to choosing the right equipment. This battery adaptor is not only compatible with all CPAP machines but other electronic devices of daily usage including TV, Laptops, Phones and Stereo etc.
One major limitation of this product is the varying run-time. If heated humidifier and heated hose is used, the CPAP battery run time will drop by 60-75 percent. The battery run-time depends on the machine brand and pressure settings.
This battery adaptor is the perfect vacation or travel companion for your CPAP machine. Majority of the users are satisfied with this purchase as it ensures peaceful sleep.
Pros
Lightweight, portable design
Reliable
Works well with all CPAP machines
Also power other standard electronic devices like TV stereo laptop phones etc
Cons
Varying run-time
The best smallest CPAP machines for 2019 are as mentioned:
Final Verdict
Wave Medical CPAP Cleaner and Zopec Battery Adaptor are excellent tools for your CPAP machine. In case of portable CPAP machines, DreamStation Go, ResMed AirMini and HDM Z2 are the 3 best smallest CPAP machines of 2019.
Without adequate maintenance and power backup, you will be risking your health and peace of mind. The Zopec Battery Adaptor is also an important tool to keep your power backup. It is exceptionally small and lightweight with a 100V AC outlet that we get with large battery adaptors.
The Wave Medical CPAP Cleaner cleans your CPAP machine thoroughly with ozone and closed-loop sanitation. This method works with 99.9% efficiency and safety. You don't have to worry about harmful germs and bacteria and hours of cleaning your CPAP machine after this purchase.
DreamStation Go is our top pick because of its high customer satisfaction and flexibility with tubing and mask options. The noise is a significant drawback that can be eliminated by using a 22mm tube. If you purchase humidifiers, this machine is the best and works fine with majority of CPAP users.
HDM Z2 is a good machine with decent performance. This machine, like DreamStation Go is FAA approved and much quieter than other machines. 
ResMed Air Mini is good for people who are looking for smallest machine with more variety of features. It has its limitations like a noisy unit and not being compatible with masks and tubing other than a specific type. If this is not a problem for you and you're looking for the smallest size, this machine is for you.
The right CPAP machine for you depends on your individual needs and preferences. It is important to consult a doctor and be aware of your medical needs and your doctor's prescription first, and then make a decision.